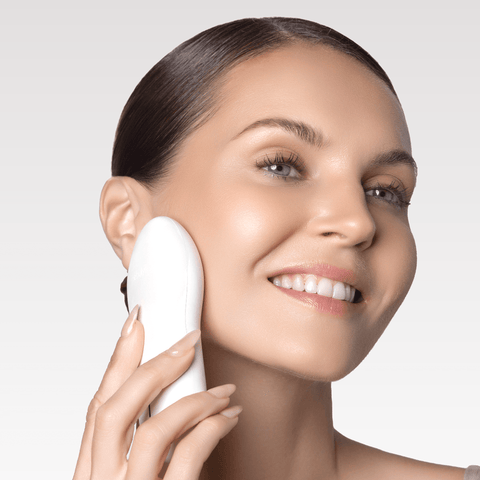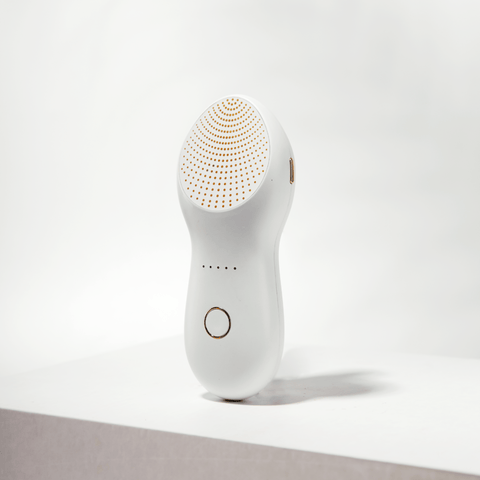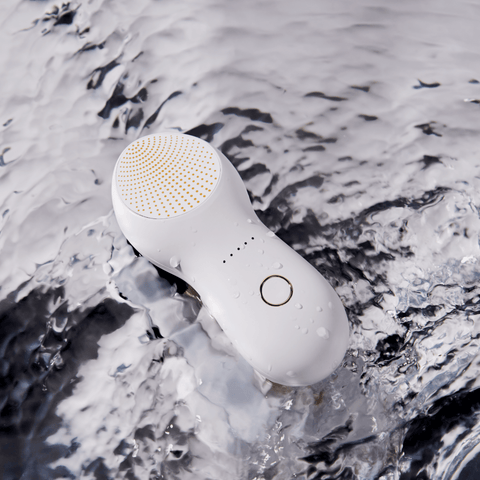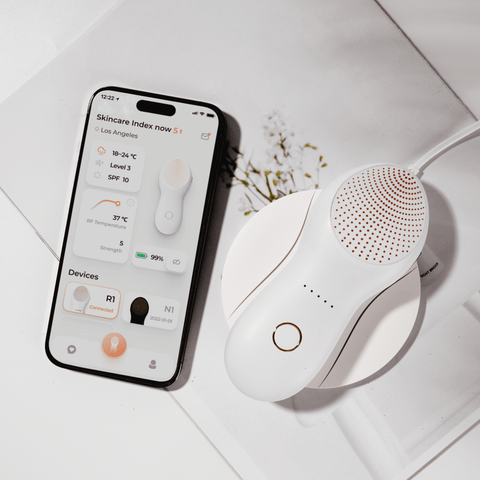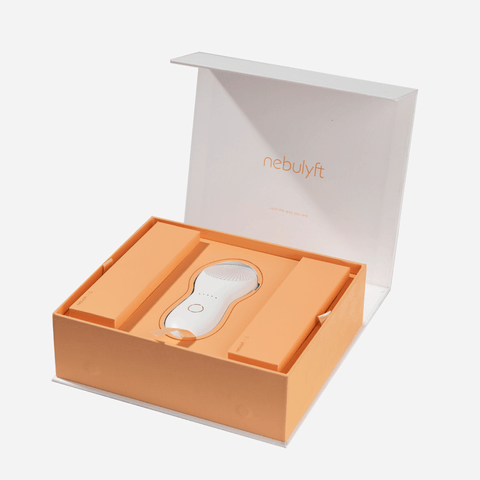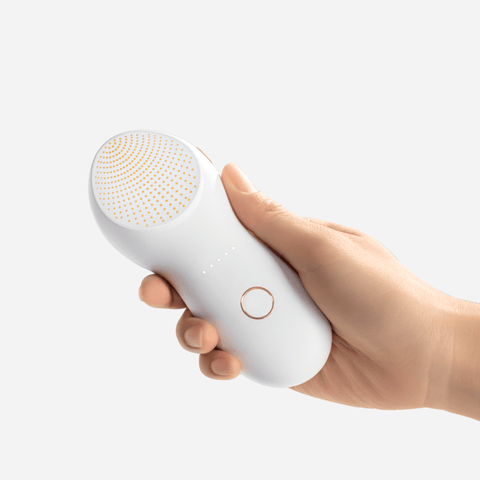 Nebulyft R2 Nebula Rosette Beauty Device
Nebulyft Multipolar Micro-RF Beauty Device R2
- Microdot™ 2.0 technology with 320 denser Gold Microdots on a large Micro-RF panel, accelerating collagen cell regeneration like never before.
- Intelligent Variable Frequency (0.5-2MHz) unveils the future of personalized beauty. 
- 4-Channel Temperature Monitoring System ensures Precise temperature control at 107.6°F (42°C)
- STM 32F4 control chip: Embrace enhanced effectiveness, precision, and intelligence. 
- Ergonomic design for effortless beauty: lightweight build, intuitive controls, and comfortable grip create an irresistible allure, drawing you to engage in regular treatments with excitement.
- Large battery capacity: 4-5 sessions of 10-minute treatment with single charge
- Five adjustable levels of RF energy for all skin type
- Wireless charging,  IP56 waterproof and dustproof design.
- Quick hydration reduces swelling and dark circles and improves complexion and stay Refreshed.
- 28 days clinical trial: effectively brighten spots, minimize pores, reduce Nasolabial Folds, Fine Lines, and enhance smoothness.
Nebulyft®️ App Integration: Elevate your Skincare with Personalized skin management.
To celebrate the new launch of our official website, now we offer free shipping over $100!
28-Day Money Back Guarantee
Having a second thought? No problem! Check return policy for details (restrictions apply)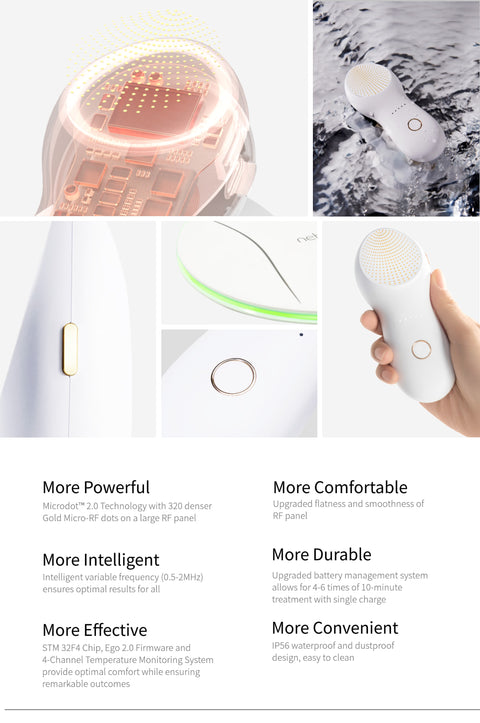 All-in-One Solution
Revitalize Your Skin with Nebulyft



Pigmentation of acne marks



28 Days Clinical Trials
Witness Your Skin Rejuvenation

Spot Brightening
Pore Minimizing
Fine Line Reduction
Smoothness Enhancement

Nebula Rosette Microdots
Adopting the Microdot™ 2.0 technology with 320 denser Gold electrode dots on a larger RF panel, accelerating collagen cell regeneration like never before.
Intelligent Variable Frequency (0.5-2MHz) unveils the future of personalized beauty.

R2 intuitively adjusts energy and temperature according to facial areas, ensuring optimal results for all. Thin under-eye and temple areas receive lower energy, while the thicker cheek area experiences increased energy.



Intelligent Temperature Control Gentle Skin Care & Avoids Burns
Nebulyft ensures your safety and beauty by guarding you with its safe operating temperature of 107.6°F (42°C) - the red line for human cell temperature. It is designed to prevent burns and provide gentle skincare
Five adjustable levels of RF energy

Personalize your skincare journey. Choose from a range of energy levels to tailor treatments precisely to your needs, delivering deep and effective results.


Wireless Charging, Easy to Clean, Grab and Go
Enjoy easy wireless charging, with one full charge providing 4-5 sessions of 10-minute treatment. The IP56 waterproof and dustproof design enables effortless use and cleaning. Weighing just 0.25lbs, it's lightweight and portable for use anytime, anywhere.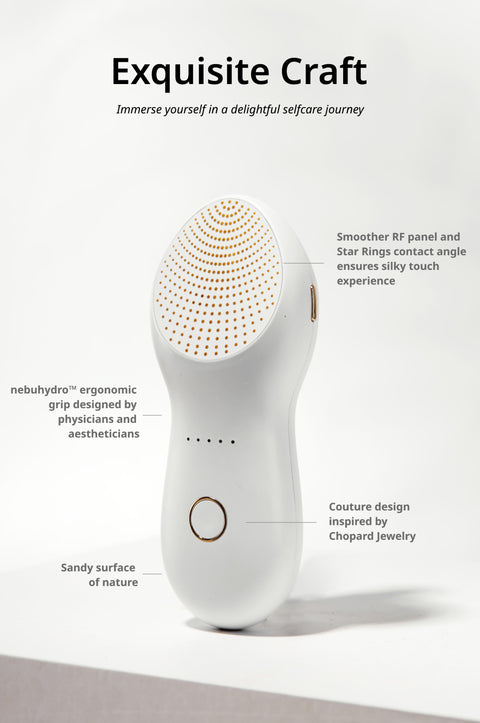 Nebulyft®️ iOS App Integration:

Easily connect with your Nebulyft device, capture the skin transformation anytime and anywhere with Nebulyft. We highly recommend you to download the Nebulyft App for tutorials, skincare tips, treatment tracking, and exclusive discounts for App users only.
Nebulyft soothing gel, highly recommended by experts

Two 50ml soothing gels (a $45.98 value) will come with the package

Nebulyft R2 Nebula Rosette Beauty Device
Heats up almost immediately without burning the skin. Feels very luxurious on the skin and I find myself looking forward to using it as part of my regular routine alongside red light therapy mask. Skin does appear brighter since onset of using both devices.
Tried R2 for 2 weeks, 10mins, once a day, like it
I have tried R2 for 2 weeks, first thing in the morning after the red LED mask. I notice my skin is more smooth. The gel is nice, and not too easy to dry, I did try some other cheaper alternative gel too, seems working. I have been using the warmest mode. I will keep on using it once a day. In the pic is the other conductive gel I was using.
Can see improvement over R1C Rose
This is the second device that I've tried as I had an issue with the other one and returned it. I can feel the way that it heats is better than the other device for me. Nebulyft was kind enough to give me a price adjustment as well when I missed the sale by a day or so. I have hyperpigmentation and a few spots of what is thought to be a very mild melasma. Because of that I was a bit reluctant to use RF. Mostly due to heat, however, it seems to be fine on the rest of my face and for now I'm just avoiding that one spot. I really missed having the device it's like a nice hot rock treatment and very relaxing, so I'm trying it for a second time.
I do like the configuration of the dots as it's similar to the other device and good for getting into tighter areas. Also, there are more of them. I also like the pretty green glow around the charger.
Elegant and effective!
I have only had my R2 for a few days now, but can immediately tell a difference in my trouble areas of jawline and droop around my mouth. I also see a noticeable difference in my skin glow! The R2 is comfortable, elegant, easy to use and the warmth feels amazing in the morning. A truly indulgent spa ritual at home that is already giving me results with my trouble areas. Thank you for creating a beautiful product and I look forward to integrating more facial tools from Nebulyft.
So far so good
Recently purchased the R2 and have been using it for about 2 weeks. I like that it is to be used daily so my skin gets that little extra plump every day. I agree with the other reviewer that the gel does tend to dry out but I just spritz with a little Distilled Water and Hyaluronic Acid solution and keep going. I have some nasolabial folds and marionette lines and there is a small improvement already. I do also used microcurrent and red/infrared light.