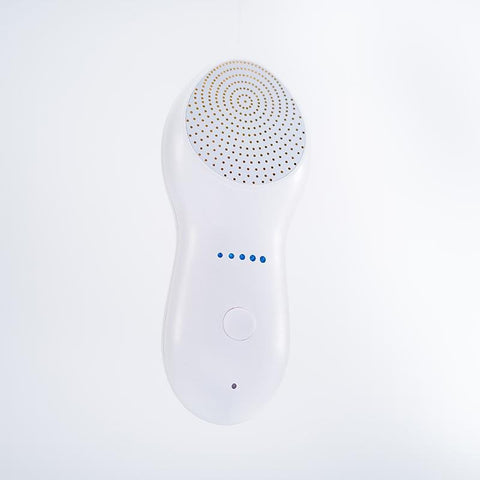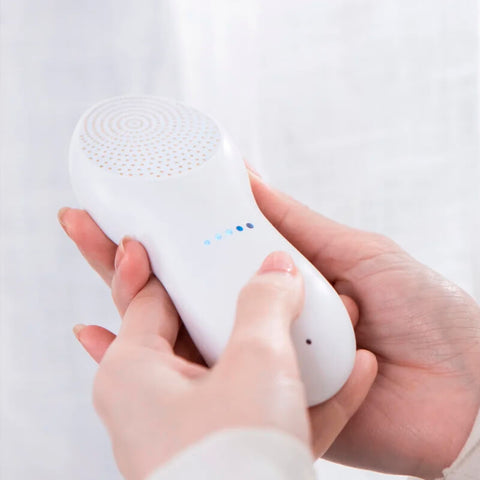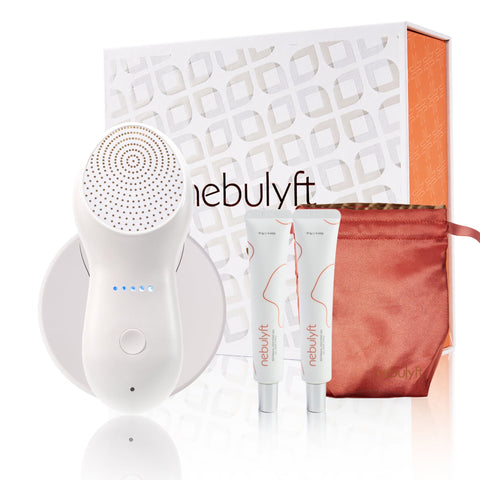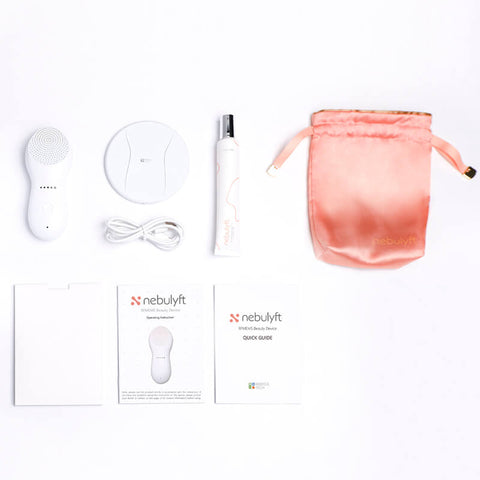 Nebulyft R1 Multipolar RF Anti-Aging Device
Show more
This patented nebula of Gold electrodes (µRFthera®) delivers RF energy with sub-millimeter precision. Reducing daily treatment time to as little as 10 minutes, the Nebulyft system allows for a progressively adaptive treatment for different skin types and various facial areas.
"Anti-gravity" skincare treatment
256 Gold Micro-RF dots
Panel 2.79 square-in (18 square-cm)
Instant Effect from the First Treatment

Pore size reduction with soothing organic gel

Precise temperature control and monitoring 107.6°F (42°C), 100% Non-invasive & Super Portability

Nebulyft Organic Gel is Exclusive for the Nebulyft devices & 100% Organically Produced in LA, USA
Can be used as an instant hydrating mask

Mechanical buttons & LED indicators
To celebrate the new launch of our official website, now we offer free shipping over $100!
28-Day Money Back Guarantee
Having a second thought? No problem! Check return policy for details (restrictions apply)
What the experts say
Nebulyft R1 Reviews Videos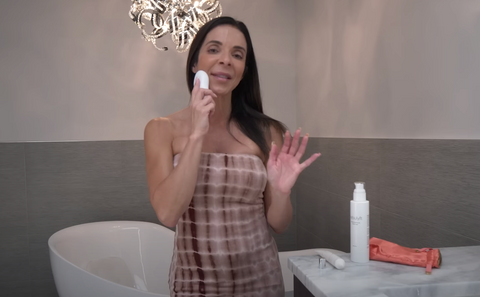 My Secret to Flawless Summer Skin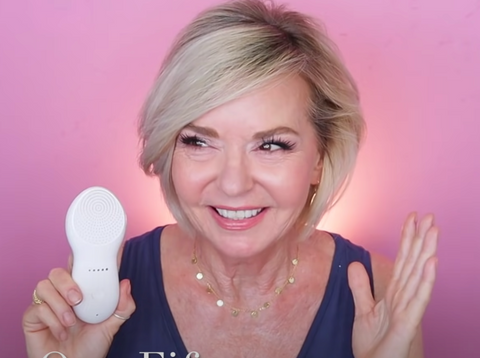 How to Tighten Skin, Lift & Firm Chin, Neck - Nebulyft Full Demo Over 50
How to Tighten & Lift Face and Neck - Nebulyft R1 Full Demo - Over 40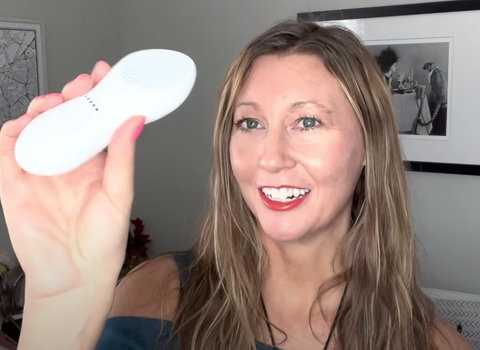 LOOK 10 YEARS YOUNGER- I NOTICED A DIF ON THE FIRST USE- NEBULYFT R1 MULTIPOLAR RF ANTI-AGING DEVICE
At Home Skin Tightening & Anti-Aging Technology
Discover your skin for a new day in 10 minutes
10-min daily treatment effective for
ANTI-AGING
SKIN TIGHTENING
EYE BAGS ERASING
WRINKLE ERASING
ACNE MARKS ERASING
& 100% Organic GelTURN BACK THE TIME
Enjoy a skin "lyfting" experience without the pain.
INTELLIGENT THERMAL CONTROL World 1st MicroRF Anti-Aging Device
Truely Non-invasive
5 sensor real-time technology.
No hot-spots above 107.6°F (42°C).
No pain.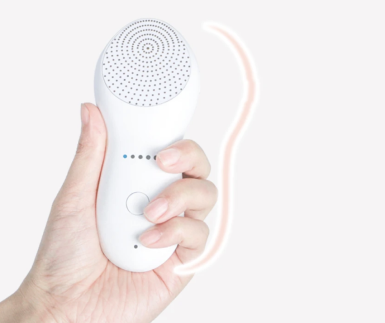 Ergonomics design to better fit with any area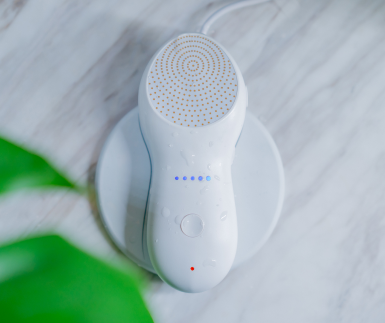 Ergonomics deWireless charging IP54 waterproof & dustproof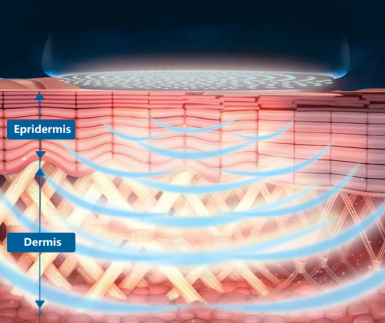 5 levels of RF energy for deep, effective treatment.
Nebulyft works the best with Nebulyft Exclusive Gel series*
*Specially formulated by OLECEA BEAUTE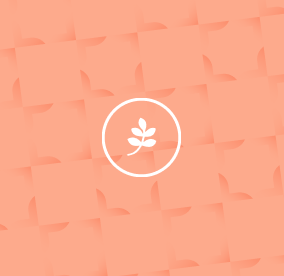 Lavandula Angustifolia Extract & Panthenol
Main functions: Anti-inflammatory, Moisturize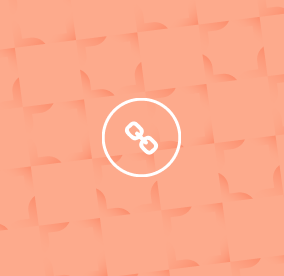 100% Organically Produced
Exclusively Customized and 100% Organically Produced in California, USA
Hamamelis Virginiana Flower Water
Main functions: Anti-inflammatory, Anti-Allergy, Relieving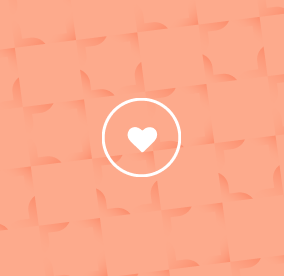 Preservative lower than industrial standard
Testimonials
See What Our Satisfied Customers Have to Say!

Jennifer
YouTube Influencer, Jennifer Joyce Beauty
I love my Nebulyft!

"The consistent 42 degrees Celsius and Science based Radio frequency smooths out my wrinkles, lifts and tightens my skin in such a magnificent way! Easy to hold- easy to travel with - easy and enjoyable to use...... A MUST HAVE''

Okay, so this little device has been a total vibe for me as I start tackling those pesky lines on my neck, around my mouth, and near my eyes. I hit up the top of my lips, then the bottom - ya girl has got a whole routine! It's the only thing I've been able to keep up with every day, and it's honestly so calming and effective. If you're looking for something chill that actually works, give this bad boy a shot.



Wish I would have met you sooner....

The Nebulyft R1 has been an absolute game-changer for my RF device. It's incredibly user-friendly, comfortable to hold, and lightweight. Not to mention, it turns off on its own and does an excellent job. It's exceeded my expectations, and I couldn't be happier with my purchase. If you're in the market for an RF device, the Nebulyft R1 is the way to go - it's seriously that good.

Get Nebulyft iOS App Now!
Nebulyft App connects Nebulyft Beauty Device to your smart phone.
*Warranty and Money Back Guarantee Extension
*Check device status
*Join our Nebulyft Community
when will i see results? are there any negative side effects?
Most users experience results after four weeks.* Ninety-four percent of users reported dramatic results. Eighty-five percent saw improvement in skin texture. Seventy-three percent saw visible improvement in more than one area. Sixty-nine percent saw a reduction of fine lines and wrinkles. To hear more about what nebulyft® RFMEMS beauty device users are saying about the product, visit our Testimonials page.* Results may vary based on skin type and texture. The first few minutes after treatment, some users may experience a slight redness in the treated area. This may linger for a few hours but is no cause for concern. If at any time during treatment your nebulyft® RFMEMS beauty device feels too hot for your skin or your skin feels irritated, take a break and wait a few minutes until your skin cools down before resuming treatment.
who is it for?can i put on makeup immediately after treatment?
nebulyft® RFMEMS beauty device is for anyone who wants:To restore a natural, youthful-looking appearance.A safe, comfortable and pain free way to get results. Your own mini-spa treatment in the privacy of your own homeA different option than pricey anti-aging face creams and serums.Yes, you can continue with your regular routine once you have completed your treatment.
Loving my R1
This is so easy and relaxing to use and with the immediate plumping I see I'm definitely motivated to keep using everyday! I'm excited and confident I will continue to keep seeing results. I'm 64+ so I know I can only expect so much but so far so good!
Best Purchase Ever
I absolutely love my Nebulyft!!! I have been using it every morning since I got it, which was 3 weeks ago. I have already noticed a difference, my face is firmer, brighter and has an overall younger appearance<3
Ich liebe es dieses Gerät zu benutzen.
Es ist so einfach und liefert tolle Ergebnisse. Ich habe es die ersten 2 täglich für 10 Min benutzt. Jetzt benutze ich es ca. 1 bis 2 mal die Woche, manchmal auch 20 Min. Es wirkt sehr gut und meine Haut fühlt sich danach toll an. Am nächsten Morgen sieht man den Unterschied. Gehört zu meiner Routine dazu und ich hoffe, ich brauche nie mehr ohne zu sein.
It works!!!
I've noticed a huge difference with the brightness and fine lines on my face, it definitely makes turning 50 a lot easier :)